STRANGERS
---
Episode 13: RETRIBUTION
Written by Murray Smith
Directed by Carol Wilks
tx 14.10.80

GERMAN: Vergeltung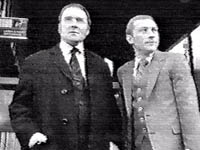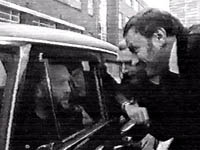 Excellent camera & editing. Starts action-packed (almost like a proto-Miami Vice), becoming more moderate afterwards.


Cast:
Malcolm Tierney (Orlando Lacey) Sarah Neville (Cressida Lacey) Bruce Bould (DI Tom Casey) Kevin Whately (Michael Hobb) Ron Bain (Ferris) Geoffrey Hutchings (Stanley Roberts) David Millett (First Detective) N. N. (Second Detective) Antony Baird (Prison Warder) Shirley Stelfox (Blonde) Tom Mennard (Blonde's Husband) Brian Bovell (Youth) Oliver Smith (Mechanic) Andrew De La Tour (Gabriel)
Crew:
Production Manager Liam Foster Production Assistant Joan Lally Floor Manager Mick Graham Lighting Cameraman Mike Popley Operator John Woods Sound Harry Brookes Editor David Rees Dubbing Colin Martin Make-up Su Jones Wardrobe Janet Benge Graphics Jim Quick Research Barbara Muxworthy Casting Director Susi Bruffin Designer Tim Wilding Music Mike Moran Producer Richard Everitt


This is an unofficial and non-commercial website. The rights to Strangers are held by GranadaMedia. The sole purpose of this page is to promote the abovementioned series - no copyright infringement is intended. However, should the copyright holders be unhappy with my use of screenshots the material in question will be removed immediately.