STRANGERS
---
Episode 14: YOU CAN'T WIN THEM ALL
Written by Murray Smith
Directed by Bill Gilmour
tx 21.10.80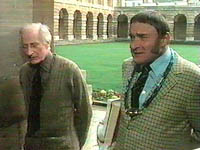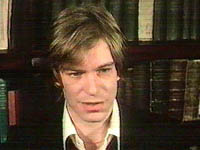 Thorley Walters' first appearance as Dugdale.


Cast:
Thorley Walters (Dugdale) Anthony Sharp (Prof. Alan Keith) Bruce Bould (DI Tom Casey) Adam Bareham (Harry Jerome) Tracey Childs (Kate) Sabina Franklyn (Sophy) Arthur Blake (Tom Stoneman) Fred Pearson (Haggard) Helena McCarthy (Mrs Gardner) Shireen Shah (Air Stewardess) Kenny Ireland (Edinburgh Bank Manager) Graham Rowe (Coventry Bank Manager) Johnny Maxfield (Liverpool Bank Manager) John Rogan, Paul Imbusch, Kevin Costello (Con Men)
Crew:
Production Manager Don Bell Production Assistant Christine Watt Floor Manager Mick Graham Lighting Cameraman Mike Popley Operator John Woods Sound Peter Pardo Editor Barry Bowmer Dubbing John Whitworth Make-up Su Jones Wardrobe Doreen Whiteoak Graphics Jim Quick Research Barbara Muxworthy Casting Director Sheila Tresize Writer Murray Smith Designer Tim Farmer Music Mike Moran Producer Richard Everitt


This is an unofficial and non-commercial website. The rights to Strangers are held by GranadaMedia. The sole purpose of this page is to promote the abovementioned series - no copyright infringement is intended. However, should the copyright holders be unhappy with my use of screenshots the material in question will be removed immediately.