STRANGERS
---
Episode 15: ARMED AND DANGEROUS
Written by Murray Smith
Directed by William Brayne
tx 28.10.80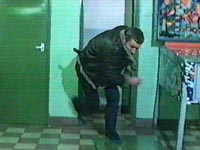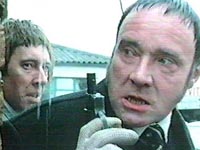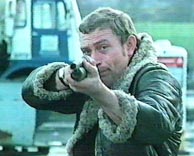 Like in his Professionals episode Blackout the director makes excellent use of English countryside locations, and like Blackout this maintains a perfect balance between moments of considerable tension and laid-back relaxation.
Cast:
Maurice Colbourne (John Rutter) Keith Buckley (Eddie Verity) Rachel Davies (Jean Rutter) Ken Kitson (Joe Green) Barrie Houghton (Harry Degas) Bruce Bould (DI Casey) Drew Dawson (Tommy Quince) Jonathan Davis (Doug Smithers) Paul Hamilton (2nd Villain) Dick Sullivan (Surgeon) Ann Hammersley (WPC) Geoffrey Leesley (CID Man) Meg Johnson (Woman in Suburbs) Peter Wheeler (Radio Commentator)
Crew:
Production Manager Bill Leather Production Assistant Vicki Standeven Floor Manager Malcolm Rankin Photography Mike Thomson Operator Jon Woods Sound Phil Taylor Editor Eddie Mansell Dubbing John Whitworth Makeup Sue Jones Wardrobe Janet Benge Graphics Jim Quick Research Barbara Muxworthy Casting Susi Bruffin Designer Chris Truelove Music Mike Moran Producer Richard Everitt


This is an unofficial and non-commercial website. The rights to Strangers are held by GranadaMedia. The sole purpose of this page is to promote the abovementioned series - no copyright infringement is intended. However, should the copyright holders be unhappy with my use of screenshots the material in question will be removed immediately.