STRANGERS
---
Episode 16: RACING CERTAINTY
Written by Murray Smith
Directed by Ken Grieve
tx 04.11.80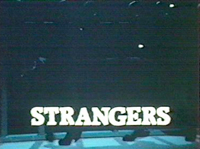 Cast:
Maurice Colbourne (John Rutter) Barrie Houghton (Harry Degas) Ken Kitson (Joe Green) Rachel Davies (Jean Rutter) James Copeland (Willie Mauchlin) Karen Mayo Chandler (Lucy Degas) Pamela Sholto (Mrs Casey) Anton Phillips (Doctor) Jonathan David (Doug Smithers) Claire Hughes (1st Girl) Julia McCoy (2nd Girl) Mark Sheridan (Detective Inspector) Bert Gaunt (Hospital Porter) Darragh O'Malley (1st Ambulance Man) Roon Flanagan (2nd Ambulance Man) John Penney (Race Commentator) Duncan MacNaughtan (TV Newscaster)
Crew:
Production Manager Liam Foster Production Assistant Milly Preece Floor Manager Malcolm Rankin Photography Mike Thomson Operator Andy Stephen Sound Peter Pardo Editor Alan Ringland Dubbing Editor John Whitworth Makeup Su Jones Wardrobe Janet Benge Graphics Jim Quick Research Barbara Muxworthy Casting Sheila Tresize Designer Tim Wilding Music Mike Moran Producer Richard Everitt


This is an unofficial and non-commercial website. The rights to Strangers are held by GranadaMedia. The sole purpose of this page is to promote the abovementioned series - no copyright infringement is intended. However, should the copyright holders be unhappy with my use of screenshots the material in question will be removed immediately.