STRANGERS
---
Episode 17: CLOWNS DON'T CRY
Written by Murray Smith
Directed by William Brayne
tx 11.11.80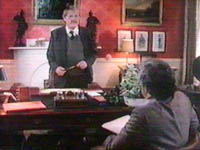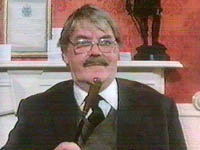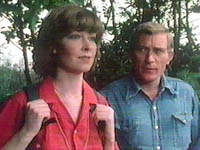 Bulman, under investigation by A10 for manslaughter (see previous episode Racing Certainty), talks to his snout Johnny in a pub which is also a meeting point for several Polish diplomats. When they start to quarrel Bulman follows them outside and questions them. Meanwhile Johnny meets the remaining diplomat in the washroom – and gets badly beaten up by the man.
A puzzled Bulman goes to see Dugdale who puts him on the trail of a Polish circus. When Lambie argues that Cold War-/espionage-related affairs should rather be handled by Special Branch or MI5, Bulman uses investigating a case of indecent exposure as an excuse to snoop around in the relevant area. Willis and Bennett who are posing as backpackers arrive there, too, and Willis is hired as an assistant by the acrobats ...
Splendid location work, good production values. They have a way of making it look a big budget thing which it surely wasn't.
Cast:
Thorley Walters (Dugdale) Monica Grey (Lady Wentworth) Geraldine Gardner (Greta) Alan Ford (Johnny James) Boris Isarov (Prince Vyertzhishishke) Angela Galbraith (Secretary) Khalila Oghab (El Supremo) Bibs Ekkel (Panin) Z.R. Sieciechowicz (Rashinski) Yuri Borienko (Litman) Paddy Frost (Barmaid) John Blundell (Student) Chris Barltrop (Ringmaster) Les Saltas (Trapeze Act)
Crew:
Production Manager Chris Gormley Production Assistant Sally Taylor Floor Manager David Goldstrom Lighting Cameraman Mike Thomson Operator John Woods Sound Alan Bale Editor Paul Green Dubbing John Whitworth Musical Associate Derek Hilton Makeup Su Jones Wardrobe Cecilia Doidge Graphics Jim Quick Research Barbara Muxworthy Casting Sheila Tresize Designer Chris Truelove Music Mike Moran Producer Richard Everitt


This is an unofficial and non-commercial website. The rights to Strangers are held by GranadaMedia. The sole purpose of this page is to promote the abovementioned series - no copyright infringement is intended. However, should the copyright holders be unhappy with my use of screenshots the material in question will be removed immediately.