STRANGERS
---
Episode 19: NO ORCHIDS FOR MISSING BLANDISCH
Written by Murray Smith
Directed by Bill Gilmour
tx 25.11.80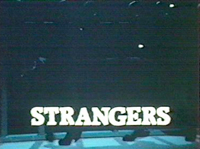 Bulman and Willis enter the world of arms-dealing and find that a professional hitman, Glass-Eye Jackson, and Special Branch are involved in the case as well.
Has everything Strangers is famous for – most notably a truly nice sense of humour (Have you seen my kettle?!'; Bulman masquerading as tax man, complete with bowler hat), and smashing performances.
Cast:
Ray McAnally (Miro Blandisch) Richard Wilson (Steven Wardrope) Bobby Pattinson (Arthur Portman) Martin Oldfield (Glass-Eye Jackson) Greta Schmidt (Davina) Ralph H. Lawton (Supt. Hislop) Kenneth Cranham (Willie Bruce) John Pickles (Hotel Manager) Diana Flacks (Typist) Tina Robinson (Hotel Receptionist) George Hagan (Mr. Grenville)
Crew:
Production Manager Nick John Production Assistant Jane Boult Floor Manager Mick Graham Lighting Cameraman Mike Popley Operator John Woods Sound Nick Steer Editor Barry Bowmer Dubbing John Whitworth Make-up Su Jones Wardrobe Sue Hunting Graphics Jim Quick Research Barbara Muxworthy Casting Director Susi Bruffin Designer Chris Truelove Music Mike Moran Producer Richard Everitt


This is an unofficial and non-commercial website. The rights to Strangers are held by GranadaMedia. The sole purpose of this page is to promote the abovementioned series - no copyright infringement is intended. However, should the copyright holders be unhappy with my use of screenshots the material in question will be removed immediately.