STRANGERS
---
Episode 20: THE MOSCOW SUBWAY MURDERS
Written by Murray Smith
Directed by William Brayne
tx 25.09.81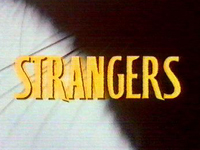 Cast:
Thorley Walters (Dugdale) George Pravda (Pushkin) Eugene Lipinski (Razanov) Georgina Melville (Joanna Seers) Jeffry Wickham (Gribling) George Sweeney (Moose McKnight) Shaun Curry (Ted Marshall) Patricia Maynard (Claire Lambie) Ray Marioni (Mario) Jiri Stanislav (Solkov) Alan Penn (Koruyenko) Miki Iveria (Old Woman) Jaroslav Hrynash (1st Soldier)
Crew:
Production Manager Keith Thompson Production Assistant Joyce Fowler Floor Manager Mick Graham Photography Mike Popley Sound Alan Bale Makeup Su Jones Costumes Sue Hunting Graphics Ray Freeman Research Barbara Muxworthy Editor Victoria Price Dubbing Mixer Andy Wyatt Casting Jose Scott Designer Stephen Fineren Music Mike Moran Producer Richard Everitt


This is an unofficial and non-commercial website. The rights to Strangers are held by GranadaMedia. The sole purpose of this page is to promote the abovementioned series - no copyright infringement is intended. However, should the copyright holders be unhappy with my use of screenshots the material in question will be removed immediately.