STRANGERS
---
Episode 21: THE LONELINESS OF THE LONG-DISTANCE COPPER
Written by Murray Smith
Directed by Tristan De Vere Cole
tx 02.10.81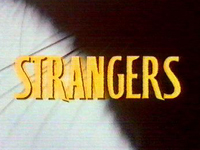 When Loco Parmini escapes from prison (using an explosive volume of The Complete Works of Oscar Wilde from the library) he makes sure two of Lambie's men get shot while in pursuit. His next stop is at the Superintendent's house where he takes Mrs. Lambie hostage. Parmini is out for revenge, holding his opponent responsible for the death of his brother who was killed in a Flying Squad raid set up by Lambie.
Quite straightforward (and very good!) which probably made it attractive for foreign markets. This is as close as Strangers ever came to The Professionals (cf. Hunter/Hunted, Runner) and The Sweeney (Big Brother). Has its share of unexpected bits and irony though.
Cast:
Crew:
Designer Colin Pocock Music Mike Moran Producer Richard Everitt


This is an unofficial and non-commercial website. The rights to Strangers are held by GranadaMedia. The sole purpose of this page is to promote the abovementioned series - no copyright infringement is intended. However, should the copyright holders be unhappy with my use of screenshots the material in question will be removed immediately.