STRANGERS
---
Episode 22: A DEAR GREEN PLACE
Written by Eddie Boyd
Directed by Bill Gilmour
tx 09.10.81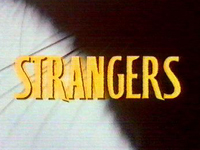 Escorting a female prisoner from Glasgow to London seems like a routine assignment for Bulman, Willis and Bennett. When Helen Ferguson is freed in the course of a car "accident" which leaves Willis hospitalized Lambie travels to Glasgow, holding Bulman responsible for the cock-up. Bulman literally hits back at his superior and submits his resignation ...
This one is a bit OTT, although it sure as hell has its moments (watch out for the coffin!). Good characterization, too.
Cast:
Thorley Walters (Dugdale) James Copeland (Willie Mauchlin) James Cosmo (DS Galbraith) Saeed Jaffrey (Narayan Bose) Virginia Stark (Helen Ferguson) Valerie Lush (Ma Cameron) James Bree (Sir Brice Norton) David McKall (Asst. CC Wilson) Sally Kinghorn (Flick Gordon) Jon Morrison (Shuggy Dawson) Freddie Boardley (O'Donnell) Peter Berry (Denzil) Martin Black (Police Sgt.) Johnny Lee Douglas (PC) Susan Rai (Romila Sardar) Lyndam Gregory (Tarsam Sardar) Iain Glass (McDermott) Norman Bain (Mike) Alex Norton (Cooper) Drew Dawson (Connell) John Buick (Willie's Waiter) Bill Barclay (Taxi Driver) Ray Jeffreys (Hotel Waiter) Primrose Milligan (Lady in Corridor) Jack Short (Old Man) Helen Norman (Old Woman) Arthur Boland (Station Announcer)
Crew:
Script Associate Murray Smith Production Manager Chris Gormley Production Assistant Christine Watt Floor Manager Les Davis Photography Mike Thomson Operator Jon Woods Sound Nick Steer Editor David Rees Dubbing Mixer John Whitworth Make up Su Jones Costumes Doreen Whiteoak Graphics Ray Freeman Research Barbara Muxworthy Casting Jose Scott Designer James Weatherup Music Mike Moran Producer Richard Everitt


This is an unofficial and non-commercial website. The rights to Strangers are held by GranadaMedia. The sole purpose of this page is to promote the abovementioned series - no copyright infringement is intended. However, should the copyright holders be unhappy with my use of screenshots the material in question will be removed immediately.