STRANGERS
---
Episode 23: STAND AND DELIVER
Written by Murray Smith
Directed by Bill Gilmour
tx 16.10.81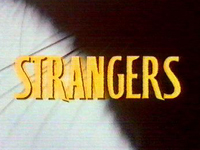 Two youths hold up a bus carrying tourists who explore the countryside. Having stolen the passengers' property they escape - on horseback! Willis investigates, assisted by Bennett, who tries hard to bring a more methodical approach to police work. Bulman, meanwhile, has some personal matters to attend to ...
One of Smith's and Gilmour's less effective achievements, but still very pleasant viewing.
Cast:
Jonathan Scott-Taylor (Wes) Simon Dutton (Luke) Michael Deeks (Frisco) Tamar LeBailly (Shane) Joan Hickson (Miss Robinson) Gwenda Hughes (Courier) Ted Beyer (Coach Driver) John Taylor (French Tourist) Frank Elliott (German Tourist) Joel David (DC Thomas) Jill Kerman (Lydia) Mick Smith (Tom) Tony Heath (Wedgie) Gregor Fisher (DI Forsyth) Philip Barnes (DC Philips) Philip Trewinhard / Paul Jaynes (Hell's Angels) Chris Corcoran (Luigi)
Crew:
Production Manager Chris Gormley Production Assistant Julia Richards Floor Manager Les Davis Photography Mike Thomson Sound Alan Bale Editor David Rees Dubbing Mixer Andy Wyatt Make up Su Jones Costumes Sue Hunting Graphics Ray Freeman Research Barbara Muxworthy Casting Jose Scott Designer David Buxton Music Mike Moran Producer Richard Everitt


This is an unofficial and non-commercial website. The rights to Strangers are held by GranadaMedia. The sole purpose of this page is to promote the abovementioned series - no copyright infringement is intended. However, should the copyright holders be unhappy with my use of screenshots the material in question will be removed immediately.