STRANGERS
---
Episode 24: THE FLOWERS OF EDINBURGH
Written by Eddie Boyd
Directed by Jonathan Wright Miller
tx 23.10.81

GERMAN: Blumen aus Edinburgh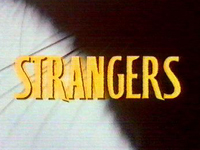 Bulman and Willis catch Johnny McGuire with what they believe to be a "blue movie" and which turns out to be about Scotland. DC Bennett, staying just there with Ludo Leishman (with whom she seems to enjoy some sort of intimate relationship), finds her contact, Angela Walker, lying dead in the park. Ludo, meanwhile, is taken in by Inspector Jenkins. Receiving reports of McGuire's death Bulman and Willis join Bennett in Edinburgh to investigate ...
Writing, camera and editing impress from the start. McManus' broad Scottish accent ("Rrrobbish!") is hilarious as ever. The incidental music is inspired as usual.


Cast:
Thorley Walters (Dugdale) Geoffrey Keen (Sir Dalrymple Walker) Gabriel Byrne (Johnny Maguire) Ken Hutchison (DI Bruce) Nicholas LePrevost (Silas Wagstaffe) Madeleine Christie (Sophie Dalton) Andrew Burt (Ludo Leishman) Fiona Black (Angela Walker) Ron Pember (Mole) Fulton Mackay (Morton) Matthew Francis (Brenda) Dorothy Paul (Barmaid) Gerry Cowan (DI Jenkins) Alex Frank (DS Wetherspoon) Phil McCall (Fred) Patricia Winslow (Chambermaid) William Armour (Man in Station)
Crew:
Production Manager Bill Leather Production Assistant Christine Watt Floor Manager Peter Roos Lighting Cameraman Arthur Smith Sound Recordist Ray French Editor Paul Green Dubbing Andy Wyatt Makeup Joan Hills Wardrobe Vera Preston Graphics Ray Freeman Research Barbara Muxworthy Casting Jose Scott Script Associate Murray Smith Designer Chris George Music Mike Moran Producer Richard Everitt


This is an unofficial and non-commercial website. The rights to Strangers are held by GranadaMedia. The sole purpose of this page is to promote the abovementioned series - no copyright infringement is intended. However, should the copyright holders be unhappy with my use of screenshots the material in question will be removed immediately.