STRANGERS
---
Episode 26: A MUCH UNDERESTIMATED MAN
Written by Murray Smith
Directed by Ken Grieve
tx 08.09.82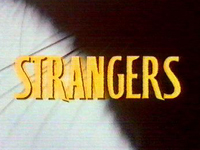 Bulman, taking saxophone lessons from Sunny Boy Saltz, suddenly finds himself in hot pursuit. The instrument saves his life when it is penetrated by the bullet aimed at him. Bulman confesses to Willis that the incident has scared him witless ...
Watch out for Saltz playing The Sweeney's main title theme on his sax!


Cast:
Edward Peel (Ewan Walters) Pamela Salem (Helen Russell) Paul McDowell (DI O'Rourke) Niven Boyd (Birch) Antoine Marin (Rene Deschamps) Troy Foster (DC Baker) Lol Coxhill (Sonny Boy Saltz) Constantin de Goguel (Henri Gebhardt) Brian Miller (Denzil) Roger Hume (Supt. Jackson) Michael Melia (Sgt. Mitchell) Jake Anthony (Fulton) Andrew Hoddinott (Schoolboy) Randall Herley (Old Man) Delia Corrie (His Wife) John Cassady (Costello) Paul Lally (Davis)
Crew:
Production Manager David Meddick Production Assistant Joyce Fowler Unit Manager John Bradburn Lighting Cameraman Ken Morgan Camera Operator Andy Stephens Sound Recordist Nick Steer Editor David Rees Dubbing John Whitworth Incidental Music Lol Coxhill Makeup Lynda Parkin Wardrobe Eve Dickens Graphics Ray Freeman Research Barbara Muxworthy Associate Producer Mervyn Watson Casting Jose Scott Designer Chris George Music Mike Moran Producer Richard Everitt


This is an unofficial and non-commercial website. The rights to Strangers are held by GranadaMedia. The sole purpose of this page is to promote the abovementioned series - no copyright infringement is intended. However, should the copyright holders be unhappy with my use of screenshots the material in question will be removed immediately.