STRANGERS
---
Episode 28: THE TENDER TRAP
Written by Bruce Crowther
Directed by Ben Bolt
tx 22.09.82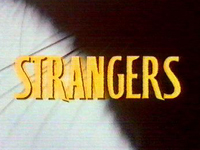 Bulman and Willis search a country house without warrant and narrowly escape from a vengeful caretaker armed with a shotgun. The local policewoman, Sgt Jill Tender, tries to cheer them up. Bennett, meanwhile, poses as a journalist trying to extract information from jazz musician Richard Barkham.
The characterization of Bulman goes back to The XYY Man for this episode.
Absolutely hilarious! Watch out for the sequence in which Willis tries to help the Sergeant with her car repair efforts. Great incidental music.


Cast:
Simon Williams (Richard Barkham/Sir Lawrence) Rachel Davies (Sgt. Jill Tender) Nigel Stock (Mayor) John Collin (Farm Manager) Bernard Gallagher (Philip Franklin) Brian Southwood (Harry) Stephen Tomlin (Record Producer)
Crew:
Production Manager Don Bell Production Assistant Joan Lally Floor Manager Peter Roos Lighting Cameraman Mike Popley Operator Doug Hallows Sound Phil Smith Dubbing Andy Wyatt Editor Don Kelly Casting Jose Scott Makeup Julie Jackson Wardrobe Lesley Everitt Graphics Ray Freeman Research Barbara Muxworthy Designer James Weatherup Music Mike Moran Producer Richard Everitt


This is an unofficial and non-commercial website. The rights to Strangers are held by GranadaMedia. The sole purpose of this page is to promote the abovementioned series - no copyright infringement is intended. However, should the copyright holders be unhappy with my use of screenshots the material in question will be removed immediately.