STRANGERS
---
Episode 29: THE LOST CHORD
Written by Murray Smith
Directed by Bill Gilmour
tx 29.09.82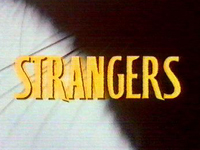 The fight scenes are not brillant but apart from that this episode is a TOTAL TRIUMPH!! Very clever, very funny.


Cast:
Thorley Walters (Dugdale) Richard Vernon (Sir Geoffrey) Michael Gough (Professor Whittingham) Peter Woodthorpe (Rupert Marshal) Rupert Everett (Lord Plural) Graeme Garden (Nigel Cruickshank QC) Tim Wylton (Alexander Dobbs) Kim Thomson (Marjory Malling) Francine Morgan (Alicia) Alick Hayes (Judge) Anthony Benson (Clerk of the Court) Peter Newton (Jury Foreman) Tom Cotcher (DC Eddie Swanson) Mike Savage (Det. Supt. Billy Wood) Richard Thorp (DS Jacklin) Mark Strickson, Nick Dunning (PCs) Michael Bertenshaw (DI Walker) Andrew Tourell (PC Higgs) Kristopher Kum (Chinese Waiter)
Crew:
Fight Arranger Alf Joint Production Manager Lars MacFarlane Production Assistant Julia Richards Floor Manager Mick Graham Lighting Cameraman Mike Popley Operator Doug Hallows Sound Ray French Editor Bob Morton Dubbing John Whitworth Makeup Jane Hatch Costumes Lesley Everitt Graphics Ray Freeman Research Barbara Muxworthy Casting Jose Scott Designer Taff Batley Music Mike Moran Producer Richard Everitt


This is an unofficial and non-commercial website. The rights to Strangers are held by GranadaMedia. The sole purpose of this page is to promote the abovementioned series - no copyright infringement is intended. However, should the copyright holders be unhappy with my use of screenshots the material in question will be removed immediately.