STRANGERS
---
Episode 30: A FREE WEEKEND IN THE COUNTRY
Written by Bruce Crowther
Directed by Bill Gilmour
tx 06.10.82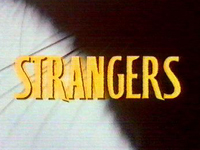 The squad take part in a weekend seminar which is supposed to broaden their expertise with regard to undercover operations. Bulman & Co. spend some more or less pleasant time with their colleagues until the unthinkable happens: a murder has been committed, and it is highly probable that the perpetrator is a policeman!
Typical Bulman stuff, well done as usual.


Cast:
Kenneth Cope (Det Chief Supt Miller) Annette Ekblom (DS Liz Croft) Derek Fowlds (DI Ken Driver) Kenneth Cranham (DCI Jim Lennard) Caroline Hutchison (DI Barbara Webb) Arthur Kelly (Harry North) Sallyanne Law (DC Linda Gough) Fred Pearson (Det Supt Donald Gray) Harry Littlewood (Mr King) John Buick (DS Chris Sheppard) Bernard Wrigley (DS Kevin Rignall) Howard Crossley (DC Malcolm Stout) Ashley Barker (DI Bill Cobb) Christopher Coll (DCI Ben Forrest) Jon Paul Matthews (Jimmy Blythe)
Crew:
Production Manager Chris Gormley Production Assistant Julia Richards Floor Manager Mick Graham Lighting Cameraman Mike Popley Operator Doug Hallows Sound Nick Steer Editor Andrew Sumner Dubbing John Whitworth Makeup Ann Humphreys Costumes Vera Preston Graphics Ray Freeman Research Barbara Muxworthy Associate Producer Mervyn Watson Casting Jose Scott Designer Tim Farmer Music Mike Moran Producer Richard Everitt


This is an unofficial and non-commercial website. The rights to Strangers are held by GranadaMedia. The sole purpose of this page is to promote the abovementioned series - no copyright infringement is intended. However, should the copyright holders be unhappy with my use of screenshots the material in question will be removed immediately.